What difference is there between a wig and a hair system?
Wigs have a standardized manufacturing process and are made with a specific hair style. They are ready to be worn. They are generally synthetic, although some are made with natural hair. All the available models are in a catalogue and they are chosen according to a hairstyle, cut and color.
Unlike wigs, a Hair system is tailor-made with the right characteristics according to the client's and the professionals' criteria, for a perfect and undetectable result. The cut and the style are performed on each individual's head so that they are completely tailor-made.

Do hair systems need to be removed to sleep?
There are two options for hair prostheses: either you can wear it "fixed" all the time when you sleep, wash your hair, swim, do sport, etc., or use it as a removable piece. If it is used fixed, it requires monthly maintenance.

If I only have hair missing at the top, do I have to wear a whole wig?
Since there is only hair missing in one area, we can manufacture a custom-made hair system only for that area and integrate it with the rest of the hair (Volumater). The result in these cases is always unbeatable, since the client's hair is mixed with that of the hair system.

MAINTENANCE SESSIONS (RE-GROOMS)
We advise that you remove the design to clean and replace the adhesive every 3 to 4 weeks on average.
This can sometimes vary depending on how active your lifestyle is; the more active you are, the more frequently a maintenance session is advised.
Yes! As long as you replace the glue as instructed (depending on the adhesive you're using) every 3 to 4 weeks, the hair will be securely fixed and won't come off without using the proper procedure. If you're extremely active, you may need to complete maintenance sessions more frequently to ensure a secure fixing. Edges may begin to lift slightly as an indication that a maintenance session is due.
We also advise using a leave-in conditioning spray to supply moisture throughout the lifespan of the hair.

WE CUSTOMIZE TO FIT YOUR NEEDS
When placing your first order, you have two options: hair only and perfect fit. The only difference is how we create the size, shape of the base, and hairline. All other options, including color, density, texture, and wave percent, are still fully customizable for both.

Are wigs or hair systems noticeable?
Thanks to our team of specialists in hair recovery systems, we always achieve an optimal natural look, both in wigs and in customization systems, as far as image is concerned. In terms of comfort, the difference is that the base of a hair system (the part that is in contact with the head) is lighter, thinner and more flexible than that of a wig (this is one of the main reasons why a hair system can be worn fixed).

Are hair systems expensive?
We have different prices, which are determined by model, size, hair length, color, etc.
We always advise the right model for each case, depending on the type of alopecia and the needs of the client and, as we are manufacturers, we always find the balance between the client's needs and their budget.

Will my hair come out if I have a hair treatment?
First of all we have to perform a trichogram, to study the hair root and to know the problem in depth. Based on this analysis, we will be able to inform you about your solution. Hair treatments are very effective in stopping hair loss and stimulating hair growth as long as you still have hair.
HOW DOES IT WORK?
Send us the hair system to be repaired, providing your name, telephone number and e-mail address. As soon as we receive it in our workshop in Roswell we will contact you to provide you with a quote and agree on the payment method and shipping system. If the hair system is not repairable, we will return it to you.
The delivery time for a repair is approximately one month, although it may be shorter, depending on the work to be done.
Although our team of hair system technicians has vast experience in repairing hair systems, it is important to note that a repair does not achieve the appearance of a new hair system.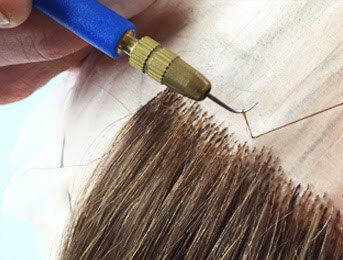 Extensions are only used to lengthen the hair or have more volume, but are never applied at the top, as this area does not allow them. If you want more hair on the top, we recommend a Volumater.